Spending 3 months frequenting places all over the country means you start being regulars at places that aren't remotely nearby. Instead of the 10-15 minute drive to the local hamburger joint, it's now a 10-hour drive to some not-so-local joint in Texas. Sometimes, I crave food from Louisiana, California, Utah—you get the point.
I can't help but feel grateful for having been introduced to these places this summer, but at the same time a little exasperatedly, laughingly resentful. Ignorance is bliss and all.
Here are some of my favorite spots that I was a regular at this summer.
Navajo Tacos from Monument Valley
This is an exquisite treat whenever you're near Navajo nation. Much like it sounds, Navajo tacos are, well, tacos. What makes them special is the fry bread they use to wrap all of the innards with—I use "wrap" lightly because with this beautiful thick bread, there's no way to really eat it like a taco.
On top of the bread is usually a generous heaping of beans, lettuce, tomato, cheese, and a steak. You can drown it in whatever sauce you choose. I typically reach for the steak sauce but the canned beans usually give it enough flavor!
For dessert, you can usually take the exact same fry bread and coat it in a healthy layer of honey. 
You can find these in Monument Valley if you take one of their overnight jeep tours. They can also be found at Cameron Trading Post on your way to the Grand Canyon if you're taking Route 89.
I once had such a craving that I considered driving the 2 hours from Grand Canyon to Cameron Trading Post just for some Navajo Tacos! Gas, after all, was paid for on the company card.
Beignets from Café du Monde in New Orleans
Ok, so I've only been here once. But that was enough to make a lasting impression on my taste buds! I'm sure you guys don't need me to tell you all about Café du Monde—there's been plenty of coverage on the long-standing café already.
But man, are these beignets good! The generous mound of powder sugar ladled on top of the perfectly fried dough.
Be sure to order a coffee when you go as well to balance out the sugar. Iced coffee is a necessity when in the sweltering heat of the summer.
Tip: they typically dislike it when people stay for long so as soon as you finish all the beignets and coffee on the table, they start not-so-subtly trying to nudge you out the door. It's all about the customer turnover here!
The Wildhorse Saloon in Nashville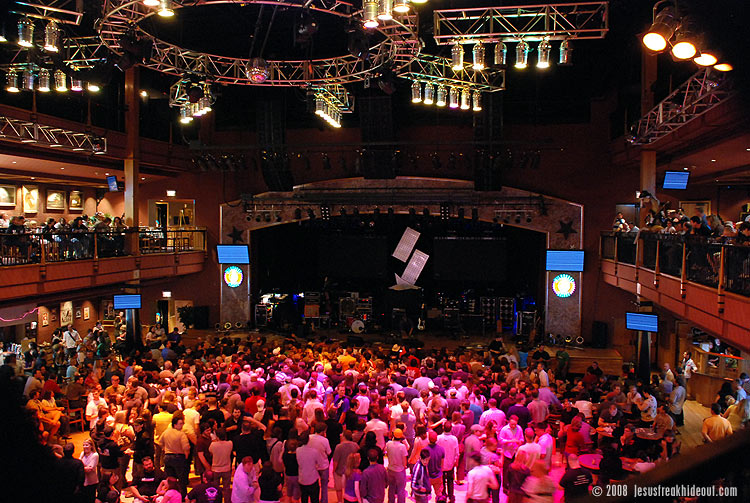 This restaurant/dance hall holds a special place in my heart. It was the first place on my first trip where I met up with a fellow leader from training. After navigating blindly on a steep learning curve for the first 5 days of the trip, I can't describe the relief I felt when I finally had someone else to confide in.
The Wildhorse Saloon is just off Broadway in Nashville, TN. It's an all-ages restaurant/dance hall so most of our trips would swing by. And you're almost guaranteed to spot a cowboy. How's that for culture?
Once you finish eating—or even during—you're welcome to join the hourly line-dancing lessons. It's a hoot and the later it gets, the wilder it gets!
The Sno-Cap in Seligman, AZ on Route 66
Route 66. The staple of any American road trip. Many of these cities now rely on tourism to survive, showcasing all the town offers on one patch of the highway.
We typically visited Seligman, AZ on our way into the Grand Canyon. Not only did we drop by for the souvenirs (there's plenty), but also for a burger, shake, and fries from Sno-Cap. 
These burgers had some drugs in it, I'm sure. They taste unlike any burger I've had before and since! And their shakes are giant and just the thing you need to fuel your further exploration of the tiny little town.
If you ever visit, check out the wall of business cards inside the little shack. You'll be sure to spot a few Trek America leaders on the wall—it's somewhat of a tradition now.
Dottie's True Blue Cafe in San Francisco
A friend that lives in San Francisco actually recommended this place to me when I visited her earlier in spring 2015. And since then, I've been recommending this place to anyone I know.
Although the spot is located in a less-than-preferred area of town—6th street right off of Market—it doesn't hinder a line from forming any time of day, any day.
On top of their standard menu, they have two chalkboards that are changed daily for specials. Specials in bakery items such as banana chocolate muffins the size of your head or specials in the form of an omelette.
I typically go for their Lamb Merguez Sausage, Roasted Garlic, Tomato, Spinach, and Goat Cheese Omelet which usually comes with a mouthwatering buttermilk dill biscuit also the size of your face.
The Salt Lick in Austin, TX
Ah, the Salt Lick. Technically somewhere I visited whenever I had friends over in Austin, I couldn't help but bring a group of passengers here too when we drove through.
I wouldn't recommend the brisket here because I've had far juicier cuts of brisket. But the ribs and sausage are amazing. And let's not forget about the wonderful sides that come with any platter! You have your coleslaw, potato salad, beans, and a healthy slab of fluffy bread to go with it! Pickles and onions are at your request, just like any good BBQ place should have it.
What's best about this place is the ambience. There's typically a wait but while you're waiting there's live music out back and a wine-tasting area on the other side. This is, after all, in hill country, which is famous for its wines.
---
So, if anyone wants to treat me to a quick flight out to any of these places, I'm not going to say no!
What places or foods have you become attached to through your travels?
Related posts: