A new series with tips and tricks–and hopefully the occasional funny story–of visiting a place in a short period of time. Loosely based off of NYT's 36 hours series. I know a lot of us, including me now, have very little time to visit certain places due to vacation-day limits.
---
Since coming back to Chicago, I've had so many friends visit me. That makes me a happy panda! I love having any excuse to discover more of my city and through these visits, I've been able to craf$t a tried and true itinerary that shows my visitors a bit of everything that Chicago has to offer.
I know that NYT already has a 36 Hours in Chicago itinerary, but here's my own version! There may be some overlap, but I think the audiences for each are pretty different (see mention of a Michelin restaurant with a prix fixe of $185).
Day 1
Although the bagels here aren't as impressive as East Coast bagels (although, they steam them like they do there), the sandwiches they make out of them are out. of. this. world. My favorite so far (out of their 100+ sandwich menu) is the Oak Pork BLT: chive cream cheese, bacon, smoked cheddar, lettuce, tomato, avocado, and garlic mayo on an everything bagel.
Is your mouth watering yet?
Chances are, if you're here later in the day, you'll be standing in line with plenty of people who were out way too late the night before and now crave something hearty and satisfying!
10:00 – Architecture River Cruise
Chicago is well known for its architecture, so what better way to learn about it than sailing down the Chicago River? There are many companies that run this tour, but I think the oldest standing company has been Wendella's.
12:00 – Deep Dish Pizza
Deep dish pizza is an iconic staple to every Chicago visit. Luckily, the main chains are concentrated in the more touristy sections, like the Magnificent Mile. There are 3 big contenders when deciding where to get your deep dish fix: Lou Malnatis, Giordano's, and Gino's East. Lately, I've been seeing a lot of hype for Pequod's, so throw that into the mix. Each chain has their own spin on the deep dish pizza; some use a traditional bready crust, others use a cornmeal crust–it all depends on what you're in the mood for!
Personally, I like the Lou Malnatis that's located in Chicago's Gold Coast neighborhood. Not only does it have my favorite cornmeal crust, but this specific restaurant is like a renovated warehouse, with twinkling lights dripping from the ceiling. You know how partial I am to pretty lights.
2:00 – Walk on Navy Pier
This is Chicago's most visited tourist attraction. Did I mention it's free? If you've been to San Francisco, it's kind of like Pier 39. Here, you'll find the Children's Museum (man, I have so many memories here), the now-defunct ferris wheel (RIP) and other theme park rides, the Chicago Shakespeare Theater, and a concert venue. This is the place that I recently saw Kygo.
4:00 – 5:00 – Drinks at John Hancock

Want iconic photos of Chicago from above but don't pay that $30-$40 price tag for the ride up to the top of Willis Tower? Do it on the cheap by heading up to the Signature Lounge at the John Hancock building. Getting up there is free–as long as you have a drink or two while drinking in the amazing views. Time it right and you'll be able to watch the sun set over this magnificent city.
Drinks up here are moderately priced, although I have noticed a $1-2 increase in prices since I've started bringing people up to the top. A can of beer can cost up to $8; cocktails hover around the $12-$15 range.
6:00 – Dinner
Enjoy a nice, long dinner at any restaurant of your choice. There are, however, a few that are pretty popular in the city. If you're in the mood for tapas, try your hand at the Purple Pig or Quartino. If you're not watching your budget too much, Au Cheval and Girl & the Goat are popular options.
Chicago is also known for its Chicago-style hot dogs. Of course, here, we just call them dogs. Stop by any hole-in-the-wall and you're sure to enjoy the heck out of your hot dog! Just ignore the neon green relish. I have no idea why, but ALL shops have neon green relish. Where do they get it? Dunno!
One of the more popular chain places is Portillo's. If you go there, be sure to get their Chocolate Cake Shake! It's exactly what it sounds like; a whole slice of their famous chocolate cake blended into a milkshake. Portillo's is also famous for their Italian Beef. Tip: Get it with hot peppers and mozzarella. So yum.
If you're looking for something more ethnic, Devon Avenue is home of one of the largest Desi communities in North America, which means really good authentic Indian food! Near Union Station and by the UIC campus is Greektown, if you're craving some Greek food. Like any major US city, there's a Chinatown an El-ride away. We are also known for a large Polish population.
8:30 – Comedy Show!
I've written about comedy shows in Chicago before. Key takeaway: don't miss out! If you've been planning a trip for a while, make sure you check out Second City's comedy shows; they sell out notoriously fast, so get your hands on tickets about a month before you arrive! If you're more spur-of-the-moment, there's always at least one show available at Improv Olympic. Either one of them is bound to give you a great time.
Suggested bars, if you're still out:
For more chill atmospheres, head to a brewery! You'll find a lot in Chicago. Notable ones include: Goose Island and Revolution Brewery.
For a clubby-type places reminiscent of your early 20's, head to: LA Social, the MID, etc.
For a more cultural, historical experience: GO TO KINGSTON MINES, one of the long-standing jazz establishments of the city. It has a pretty hefty entry fee ($12), but has such an underground, blue-sy atmosphere with pretty good food as well.
Looking for drunk food?
If you're out and about in Chicago and looking for drunk food, I highly recommend Cheesie's: a bar and pub featuring any type of grilled cheese you could possibly dream of paired with a suggested dipping sauce. What more could you possibly ask for?! My favorite (so far) is "The Tenderizer": Cheddar, Mozarella, Hot Sauce, Bacon, Fried Chicken Tenders, and Sweet Baby Ray's BBQ sauce on Texas Toast, with Ranch as the dipping sauce. MMMMMM.
Day 2*
11:00 – Brunch at Wildberry Pancakes & Cafe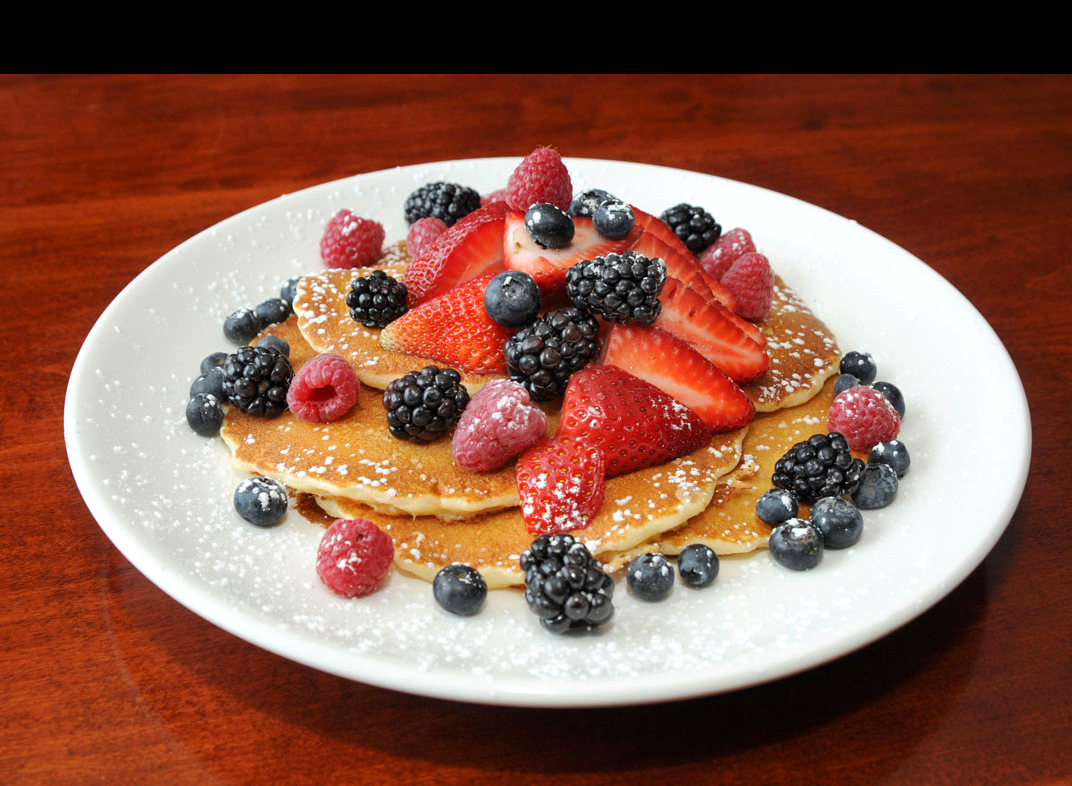 This place is phenomenal! The only downside is the HUGE wait for it every single weekend morning. It's not unusual to see upwards of a 1-hour wait here, so do yourself a favor and download the app Nowait to put your name down before you arrive. Make sure you can arrive 10-15 minutes before the expected time, otherwise they will give your spot to someone else and you'll have to start all over again.
1:00 – Walk the Magnificent Mile
The Magnificent Mile is a mile-long stretch of all the shops you could possibly ask for. If you start all the way from the Art Institute, you'll see the shops getting fancier and fancier as you walk towards the John Hancock building. It goes from rinky-dink little souvenir shops to Coach and Garmin and the like.
Highlights include Uniqlo, which just opened up last year, Top Shop, a 3-floor Forever 21 building, Levi… etc, etc. If you're at all into shopping, this is the place to be. If not, watch as hoards of shoppers go crazy. Remember that the sales tax in Illinois is quite high, though.
If you're not looking for such a high-end experience, head down a few blocks to State Street, which runs parallel. There, you'll find more average shops, like Dick Blick and Macy's.
3:00 – Museums!
There's no lack of museums in Chicago, the most notable ones being the Art Institute, Shedd Aquarium, the Field Museum, Museum of Science and Industry, the Chicago History Museum, and Adler Planetarium. You can spend a whole day in any one of these museums, which was too long for my child self when my grandma would bring me to the Art Institute. These all cost around $30, I believe.
7:00 – Catch a game!
Chicago is very sport-centric and usually has a game no matter the season. In the winter, catch a Blackhawks game–we've been Stanley Cup winners 3 times now. Whenever basketball season is, catch a Bulls game. In the summer, catch a baseball game for either the Sox or Cubs. Whenever football season is, catch a Bears game! If you're not into sports, I suggest you give it a try anyways. It's always the ambiance you go for anyways, isn't it?
And nothing screams "American!" more than a night out watching some other people be athletic and all.
*If this day is a Sunday, be prepared for very little activity on the streets.
As always, this is only a suggested itinerary. There's no reason you can't switch up the times or days of these activities to fit your schedule!
Happy exploring!
Linking up with Travel Tuesday.
Related posts: